VICKY VETTE WAS BORN FOR PORN!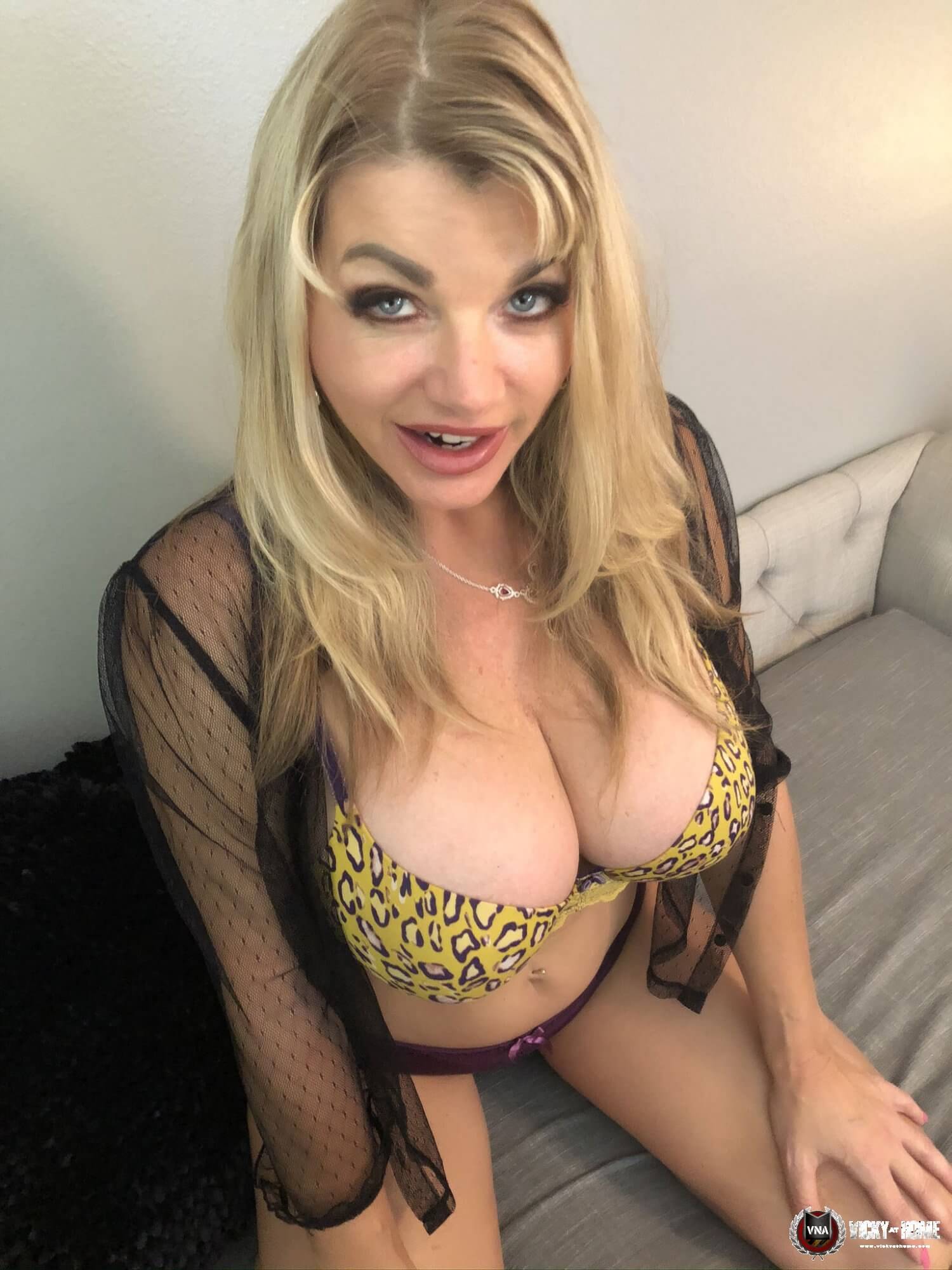 Vicky Vette was born for porn. The sensuous Scandinavian thirty-something sexpot who burst onto (or is it into) the adult world less than two years ago (via a Hustler Magazine "Beaverhunt") has been one busy beaver (and her ass has been working non-stop as well).
Born in Norway, raised in Canada, and now calling the state of peanuts, peach trees and pecans (that's Georgia to y'all and me) home, this naughty nudist has a "no holes bared" approach to sex and sexuality that has taken the magazine, video, and web world by storm!
The beautiful bisexual blonde with the bodacious boobs and bod (36D-26-36) truly enjoys both what and whom she does – and boy oh boy does it show. Meeting this Viking vixen for the first time at last September's Nightmoves Tampa Show, I was immediately taken with her honesty, outlook, and (as mentioned in the first line of this paragraph) her 36D cup size. In the days and nights to follow I would come to discover (and discover some cum) that the head on her shoulders was as impressive as the tits and ass beneath.
Speaking of the "tits and ass beneath" readers (and those who just like to look at the pictures) of Hustler, High Society, and Cherri magazines as well as M.I.L.F. hunters around the world have been repeatedly exposed to her (now) southern charms. Video fans have had more than 75 organistic opportunities to check her out in action (including the just released Grudge Fuck for our friends at www.dvsx.com). And, web-watchers (like you and I) have a daily double shot to see her in action at her own hot website – www.vickyathome.com as well as her own yahoo group.
Not only has she named herself after her favorite car "the corvette" but just like the high performance vehicle, this "Vette" has no plans of slowing down. Much to the contrary, she's about to add "feature dancing" to her ever-growing resume and should be gracing the runways of major dance clubs in the first half of next year.
As for the rest of this year, she'll be traveling (she's now touring Canada), making a few more movies, actively raising money for AIDS research, hosting live chats on her website and getting ready for the January Adult Entertainment Expo where she'll be signing for our other good friends at the Metro Interactive booth.
Presented at the end of this article (if my web guy did his job correctly) is a small sample of photos showing Vicky Vette in action. If they whet your appetite (or wet your pants) please take a second to visit her official website at www.vickyathome.com. I think you'll like what you see. Of course, you can always visit her Yahoo group – http://groups.yahoo.com/group/vickyathome Hey – why the hell not visit both – I did – and I'll be back again (and again, and again)!